Curriculum Vitae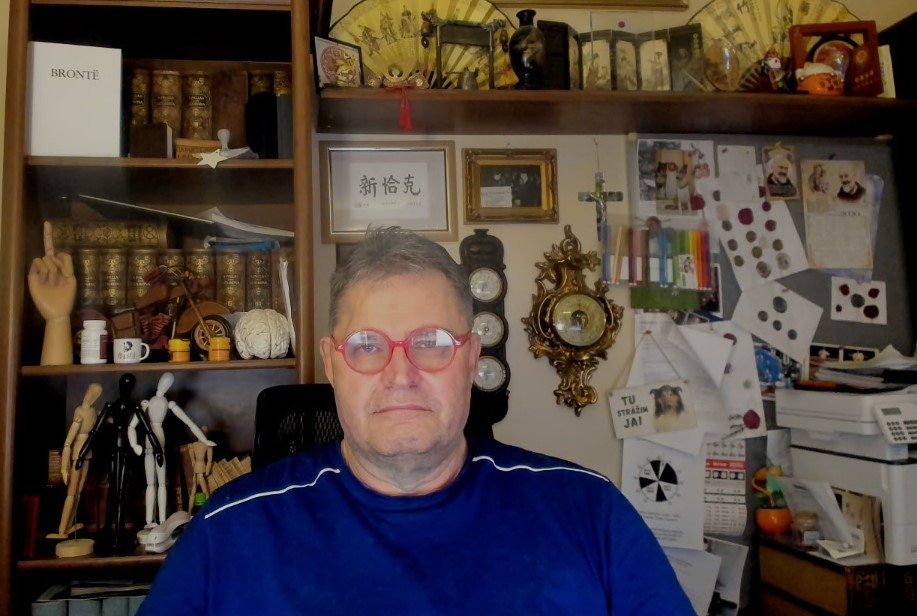 Peter Sinčák  is a University Professor in the branch of AI at Technical University of Kosice, Slovakia. He is a member of Center for Intelligent Technologies (www.cloudai.sk) and Program director for the branch of Artificial Intelligence at Technical University of Kosice, Slovakia .
 1984 MSc. – TU Kosice, Slovakia
 1992 PhD  – he holds a PhD degree from Academy of Science in Prague, CZ
 1997 Associate Professor in the AI –  at TU Kosice,  Slovakia
  2001 Full Professor in the AI branch – at TU Kosice, Slovakia
He is author and Co-author of more than 100 papers on conferences, journals he is author of 2 monographs a editor in number of books in Physica Verlag, IOS press and WorldScientific Publication Houses
Resume
He is a program director of AI Bc, MSc and PhD program at Technical University of Kosice, Slovakia. Prof. Sincak is former head of Department of Cybernetics and Artificial Intelligence at Faculty of Electrical Engineering and Informatics, Technical University of Kosice, Slovakia, European Union. He is also involve in number of collaborations with companies in the past and present.  He is lecturing AI basic course, AI advance course and he is a head of State exam committee for AI in all degrees.
He is a IEEE member, Slovak AI Society member. Prof. Sinčák is a Vice-President of Slovak AI Society He has number of contacts in Slovak Industrial and Banking  domains. He was 2009-2012 also an executive director of Kosice IT Valley group which consist of 20 IT companies in the regions. His efforts go towards boosting application potential of Artificial intelligence in industry and everyday life. He is a member of number of EU related projects including Technological Research Park at TU Kosice.
His main interest is integration of Cloud Computing, Artificial or Computational Intelligence and Robotics. He had number of invited talks in Japan, Korea, EU and USA. He is a Co-chair of RITA conferences devoted to Robot Intelligence and Theory and Applications led by prof. Johwam Kim from KAIST. He is a founder of Center of Intelligent technologies from 1995 at Technical University of Kosice, Slovakia. He was  on short sabbatical in China and Japan visiting number of research units at Universites and selected companies during July 2014. He is a main driver of www.disa2018.org event in Slovakia.
Projects
 US-Slovakia bilateral project on Geographical Satellite Image Processing
 Received an  EU support for organizing World conference on Computational Intelligence (2000, 2002), FP5
 Maria Currie Fellowship in 2001 and 2002 in Siemens Vienna (12 months)
 Active member of EUNITE 5 FP project
 Organized number of World competitions about Prediction and Classification in Real World problems
 Number of projects supported by Slovak Research Council
 Active member of Exystence network of excellence in 5FP
 NATO Fellowship – Miskolc 2004
 STARNET SSA FP6 EU
 Center of Excelence for Knowledge based Systems 2008/2010
  Center of Excelence for Intelligent Houses 2008/2010
  Member of International project ETOCOM
  Compedence Center for Knowledge Based Technology
  VIRTLAB – Slovak Hungarian Virtual Laboratory Bilateral Project
  Slovak Research and Scientific Agency Projects
  Cloud Based Human Robot Interaction (Slovak Agency for Science and Technology – 2016-2019)
  Cloud Based Artificial intelligence (Slovak National Science Agency 2016-2019)
 H2020 AI4EU No 825619 : Artificial Intelligence for European Union, 2019-2021, www.ai4eu.org
H2020-MSCA-RISE-2018, LIFEBOTS, Project ID: 824047, 2019-2021 Creating a new reality of care and welfare through the inclusion of social robots
ROBOCOM++ PROJECT, Rethinking Robotics for the Robot Companion of the Future,
Slovak APVV project 15-731 Cloud Based AI for Human Robot Interaction , 2016-2020
Slovak NSF VEGA N 1/0773/16 2016 – 2019  Cloud Based AI for Intelligent Robotics
ERASMUS 107 2018-2019, JAPAN (ATR International – topic : AI and Social Robotics)
Member of Slovak.AI association , prof. Sincak is head of Scientific Board https://slovak.ai/
Talks
 Kent State University, USA (1996
 Czech Academy of Science (1998)
 University of Dortmund (1998)
 University of Helsinky (2001)
 Chinese University, Hongkong (2002)
 Tokyo Institute of Technology (2002, 2005, 2012, 2014)
 Siemens Vienna (2003)
 Waseda University ,Tokyo (2005, 2010, 2012, 2014)
Tokyo Institute of Technology (2005)
 Hungarian Academy of Science (2010)
 University of Czenstochova, Poland, (2010)
University of Hradec Kralove, Czech Republic (2012)
Toyota Company, Toyota, Japan(2012)
Chukyo Univeristy, Nagoya, Japan(2012
 University of Tsukuba, Japan (2012)
 University of Tokyo (2012)
 Korean Advanced Institute of Technology (2012)
 Kyushu Institute of Technology, Japan, (2013)
 Advance Telecomunication Institute International, Japan, TokyoTechn, Japan, (2014, 2016)
 Scuola Superiore Sant Anna, PISA, Italy (2015)
 Waseda University, Tokyo, Japan (2005, 2015)
 ELT Course on Cognitive Science – Budapest (2015)
 Plenary talk in SCIS&ISIS2016 in Sapporo, Japan (2016) (https://scis2016.j-soft.org/plenary.html )
Osaka Prefectural University ( https://www.cs.osakafu-u.ac.jp/ci/ ) – (2017)
International Forum for Service Robotics Industry – Nanjing, China – (2017)
University of Science and Technogy, Hefei, China, prof. Xiaoping Chen – (2017)
Beijing Institute of Technology,Beijing, China – prof. Hirota, Prof. Dai – (2017)
University of Science and Technology, Hefei, China, Prof. XingFu Wang – (2019)
Honors :
Appreciation Award of Microsoft Slovakia , Slovakia  – 2004
Honorary professor of Obuda University , Hungary – 2005
Appreciation Award of City of Mayor in Kosice City , Slovakia – 2014
Honorary member of Hungarian Fuzzy Society, Hungary – 2015
Appreciation Award of Japanese Ambassador in Slovakia , Slovakia – 2016
Appreciation Award of  Distinguished Speaker,  – University of Science and Technology, China -2019
Appreciation Award of Minister of Foreign Affairs of Japan, Slovakia – 2022